Shaggy Sunday Mornings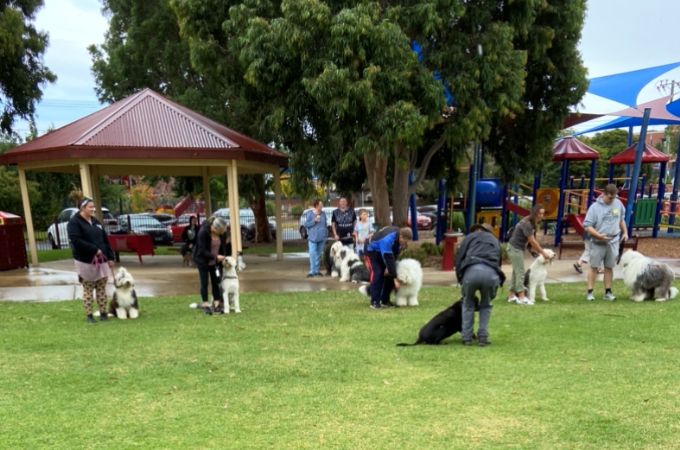 SHAGGY SUNDAY TRAINING SOCIAL MORNINGS (See Website Calendar for fortnightly dates)
The club runs our Shaggy Sunday training social mornings at the Bayside Companion Dog Training School (BCDTS) in Hodgson Reserve, Higgins Rd, Bentleigh (at the Jasper Rd end next to the Bentleigh bowls club).
Hodgson Reserve is well fenced off from the road and is very safe for our dogs. It has a large gazebo area with tables and seating if it rains and lots of trees around the park's perimeter if it is hot, with lots of fresh water available for our dogs. The park is off-lead should you wish to allow your dogs a run around, but they must always be under your effective control.
We have access to the following facilities and resources:
​
Clubrooms with seating, kitchen (tea, coffee, and water available) and toilet facilities, as well as an admin. area with staff members always on hand to help if you have any queries.
Experienced, informative and friendly instructors using current training techniques to help you socialise and train your dog to be a well behaved and obedient companion.
Extensive array of agility equipment, for different levels of experience, available for our dogs to have fun and enjoy as part of their training and socialisation.
A good range of leads and collars to suit every dog and every situation (all are safe and not harmful to our dogs) are available for purchase. These can be fitted by us or experienced instructors if you wish.
Our club grooming educator to assist you with how to groom your OES, what tools of trade to use and how to be able to look after and manage your OES's coat year-round.
Social time after training to allow your dogs a run around off-lead (if you wish) and for you to be able to chat to other members and instructors over a sumptuous morning tea.
Everyone involved in assisting and helping you socialise, train, and have your dog have some fun with other OES's and enjoy Shaggy Sunday mornings are all volunteers and are there for your benefit. We are here to assist you in any way with your OES.
Shaggy Sunday Training Social Timetable:

10.30am Registration
10.45am Training/Agility/Grooming class for our OES's
11.30am Social time and Morning Tea (all questions you may have will be answered)

We need to know numbers for both the training/agility and morning tea so the instructors are aware of how many dogs will be in attendance as well as us knowing the numbers for morning tea for catering purposes.

Please call our President (Neil Mackay) to register your attendance on 0407 551 588.
Contact Details
Wayne Fleming
Sunbury, VIC, Australia
Phone : 0402784848
Email :
[email protected]